[Home] [Request Inspection] [Contact] [Sample Reports]
Why a Home Inspection?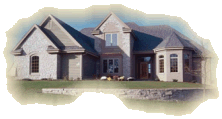 Whether you are buying an existing home, or building a new home, It would be of benefit to have an inspection performed by Beneficial Home Inspections.
A Home Inspection is one of the most important processes during the acquisition of a home. The process consists of a visual inspection of the accessible components by a trained licensed inspector . Its purpose is to provide you with valuable information so that you are able to make a more informed decision.
A home inspection would help you determine the general condition of the home as it relates to the structural, mechanical, electrical and plumbing systems, it can also help identify potentially hazardous situations that could be present, and recommend any upgrades or repairs that would help preserve the quality, safety and integrity of the structure. At Beneficial we also provide home maintenance tips and welcome call backs for any questions that you might have.
Building a home? One question, who is looking out for your best interests? (More Info)
If you are selling your home, it would be beneficial to be prepared in advance. There are many issues that frequently surface during an Home Inspection. Beneficial Home Inspections has prepared a free pre-inspection checklist to help you identify these issues. (More about selling a home)
Most issues that are identified during a home inspection can be repaired with minimal cost, however if left unattended, can become very costly and some even potentially dangerous.
Why Beneficial Home Inspections?
[Home] [Why a Home Inspection?] [Buying?] [Selling?] [Building?] [Investors] [Contact] [Fees] [Request Inspection] [Sample Report] [Standards of Practice] [Maintenance] [Septic Care]
Beneficial Home Inspections / Office - 512-719-5090
Beneficial Home Inspections.
Copyright © 2002 Beneficial Home Inspections All rights reserved.
Revised: January 02, 2017 .